BAH Horizontal slurry pumps
Product Detail
Product Tags
•Cartridge Bearing assembly and shaft
•The shaft is designed with a short overhand to
Reduce shaft deflection
Minimize vibration
•Provided with hardened shaft sleeve to protect the shaft
•Optional dimentionally interchangable heavy duty bearing cartridge assemblies.
•Cartridge assembly is retained on a one piece frame
•INPRO labyrinth seals standard for best-in-class bearing protection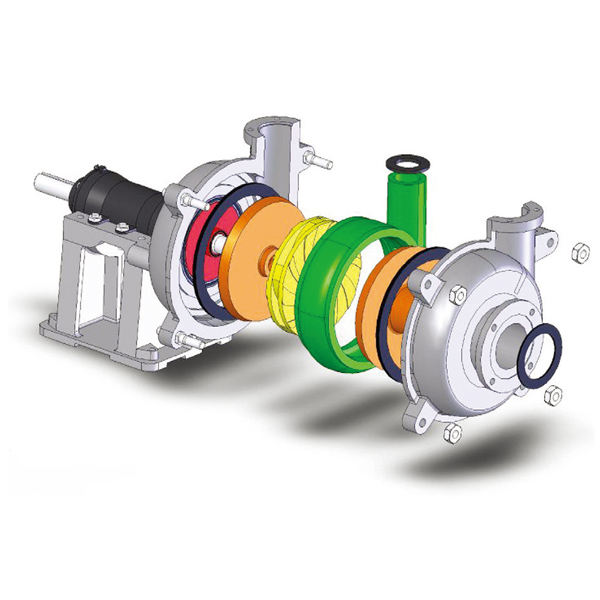 Liners and Impellers for hard metal (WX) and elastomer lined (WXR) pumps have common dimensions and are interchangeable within the same pump size.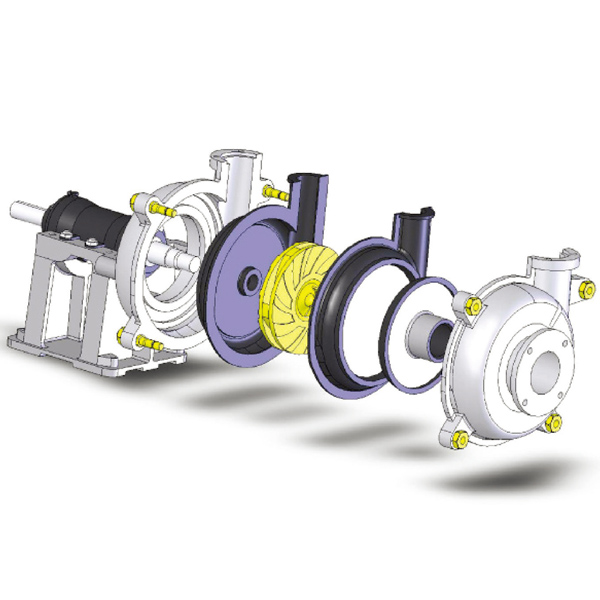 Frame supports the bearing cartridge which includes grease lubricated standard single row taper roller or Heavy Duty two row taper roller and parallet roller cylindrical bearings. Bearings are located on a large diameter shaft designed to minimize overhang and deflection.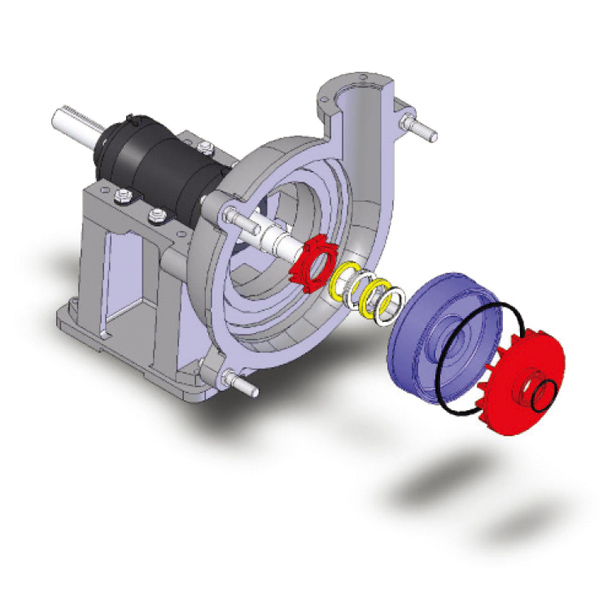 MULTIPLE SEALINGS OPTIONS
Standard gland seal (packed box with lantern ring) requires flush water.
Where suction conditions allow, Atlas's expeller seal can eliminate the need to supply water to the stuffing box. Where high suction pressures or series pumping is desired other methods of sealing must be utilized.
Expeller and expeller ring are constructed from Hi-Chrome material.
Shaft sleeve material is 420 SS hardened to 550 Brinell to protect the shaft from wear.
Hydraulic Coverage - 60HZ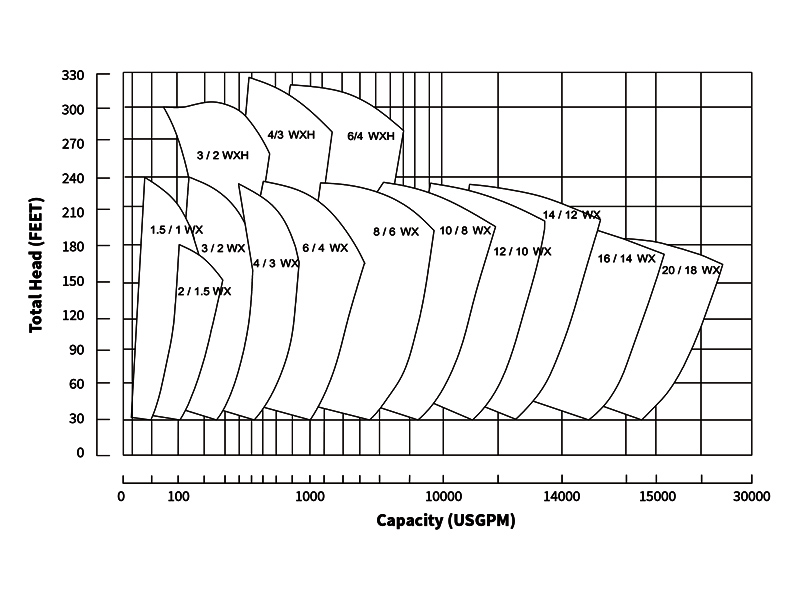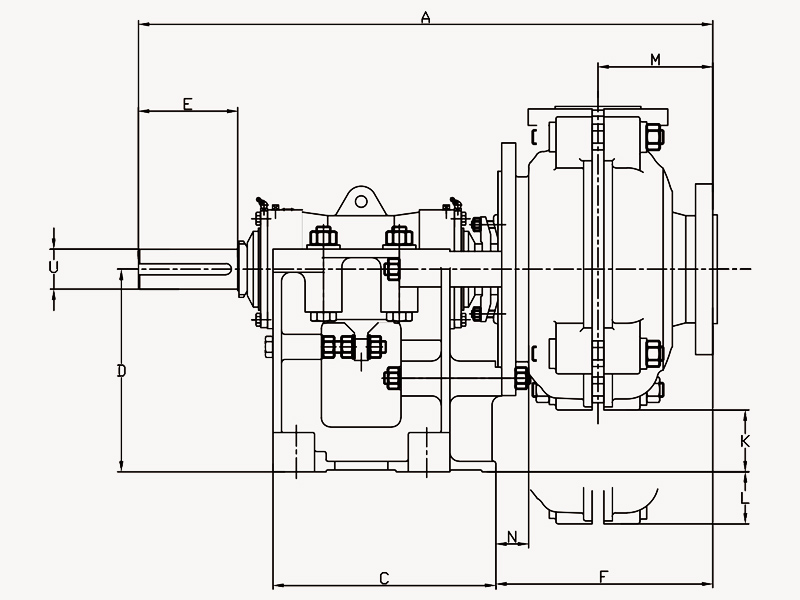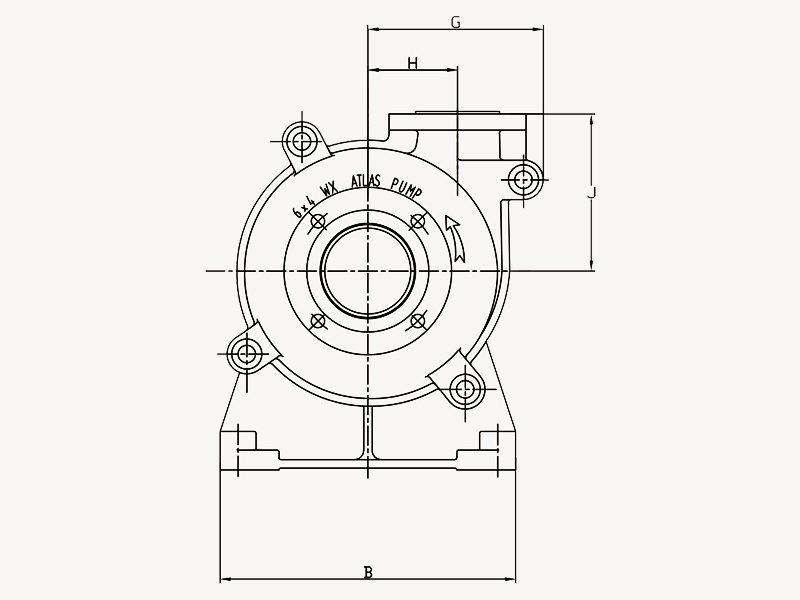 Size
A
B
C
D
U
Key
Size
E
F
G
H
J
K
L
M
N
Wt/LBs
Model
(in)
(in)
(in)
(in)
(mm)
(mm)
(in)
(in)
(in)
(in)
(in)
(in)
(in)
(in)
(in)
Metal
Elastomer
1.5/1 BWX
22.95
11.61
9.76
7.76
28
8X7
3.11
8.11
7.13
3.86
6.73
1.81
*
4.17
0.74
195
170
2/1.5 BWX
23.45
11.61
9.76
7.76
28
8X7
3.09
8.54
7.99
4.49
7.24
1.31
*
4.65
0.86
345
260
3/2 CWX
30.47
15.98
12.24
10
42
12X8
4.41
11.02
9.37
5.43
8.27
2.81
*
6.14
1.56
435
340
3/2 DWXH
28.82
19.37
14.33
12.99
65
18X11
6.46
15.28
15.12
10
14.49
*
2
7.99
3.28
1550
*
4/3 CWX
33.62
15.98
12.24
10
42
12X8
4.76
14.13
11.5
5.87
10.31
0.79
*
7.56
2.83
550
520
4/3 DWX
37.6
19.37
14.33
12.99
65
18X11
6.46
13.62
11.5
5.87
10.31
3.93
*
7.56
2.83
700
640
4/3 EWXH
48.82
24.49
17.64
17.99
80
22X14
8.74
19.37
19.37
12.99
17
*
*
9.76
3.12
2750
*
6/4 DWX
40.2
19.37
14.33
12.99
65
18X11
6.46
16.69
15.98
9.02
13.31
0.43
*
8.62
2.57
1475
1000
6/4 EWX
46.73
24.49
17.64
17.99
80
22X14
8.74
17.05
15.98
9.02
13.31
5.43
*
8.98
2.96
1950
1400
6/4 FWXH
61.26
33.74
24.96
24.02
100
28X16
10.98
23.03
24.25
16.26
21.5
1.00
*
12.01
2.96
5575
*
8/6 EWX
51.3
24.49
17.64
17.99
80
22X14
8.74
21.93
21.69
12.52
18.11
*
2.44
11.5
3.23
3300
2166
8/6 FWX
59.7
33.74
25
24.02
100
28X16
10.98
21.22
21.69
12.52
18.11
3.54
*
11.97
2.56
4000
3066
10/8 FWX
64.8
39.02
27.76
24.02
100
28X16
10.98
26.89
26.5
16.5
25
*
0.47
13.11
5.28
7040
5690
10/8 STWX
68.98
45.28
30.71
25.59
120
32X18
11.02
27.24
26.5
16.5
25
1.06
*
13.15
5.63
8250
6900
12/10 FWX
67.76
39.02
27.76
24.02
100
28X16
10.98
29.65
29.76
18.27
26.5
*
4.09
15
4.25
8290
6190
12/10 STWX
71.5
45.28
30.71
25.59
120
32X18
11.02
30
29.72
18.27
26.5
*
2.56
15
4.6
9500
7400
14/12 FWX
69.84
39.02
27.76
24.02
100
28X16
10.98
31.61
36.89
24.76
32.76
*
10.35
15.98
4.13
12890
9090
14/12 STWX
73.74
45.28
30.71
25.59
120
32X18
11.02
31.97
36.89
24.76
32.76
*
8.82
15.98
4.48
14100
10300
16/14 TUWX
91.34
57.48
41.34
35.43
150
36X20
13.78
37.52
41.26
25.98
35
*
3.31
17.76
6.56
22000
*
20/18 TUWX
97.44
57.48
41.34
35.43
150
36X20
13.78
44.29
55.67
37.01
48.43
*
16.42
22.84
2.98
36440
27181
MATERIALS RUBBER LINED PUMPS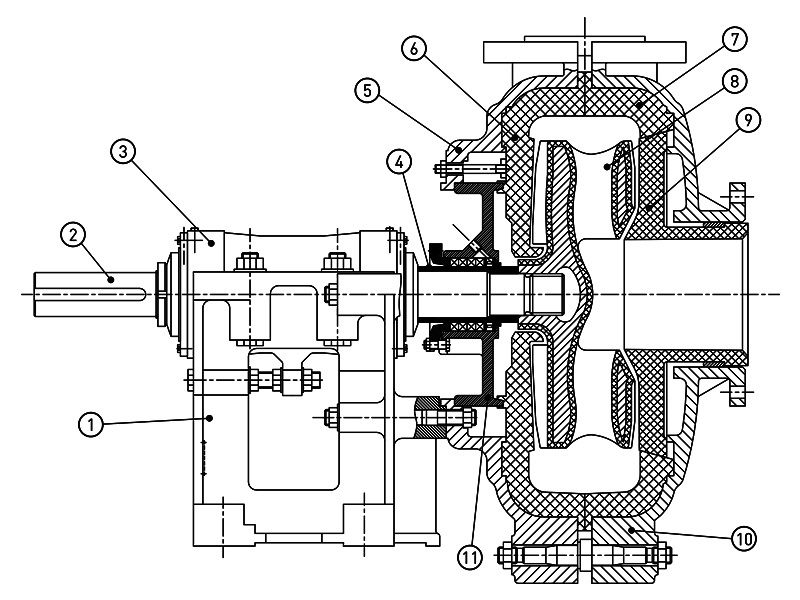 | | | |
| --- | --- | --- |
| No. | Part Description | Material Specification |
| 1 | Base | Cast Iron |
| 2 | Shaft | 4140 Hige Tensile Steel* |
| 3 | Bearing Assembly | Timkin(Cast Iron Body) |
| 4 | Shaft Sleeve | 420 Stainless Steel |
| 5 | Pump Casing | Cast Iron |
| 6 | Frame Plate Liner | Rubber |
| 7 | Cover Plate Liner | Rubber |
| 8 | Impellr | Rubber Coated High Tensile Steel |
| 9 | Throat Bush | Rubber |
| 10 | Cover Plate | Cast Iron |
| 11 | Stuffing Box | Cast Iron |
| 12 | Expeller | 27% Chrome White Iron |
| 13 | Expeller Ring | Natural Rubber |
| | Bolts | Zinc Plated Steel |
| | O-rings | Nitrile Rubber |
| | Seals | Rubber |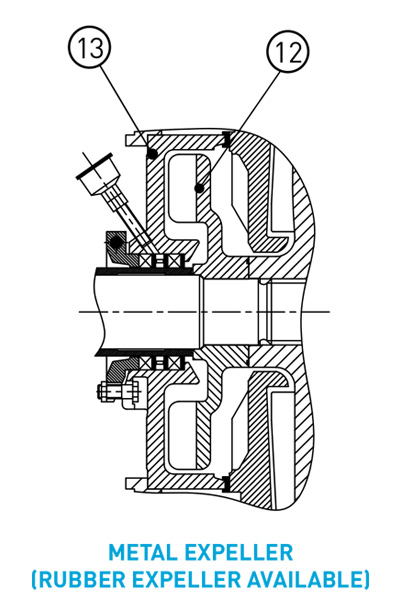 MATERIALS METAL LINED PUMPS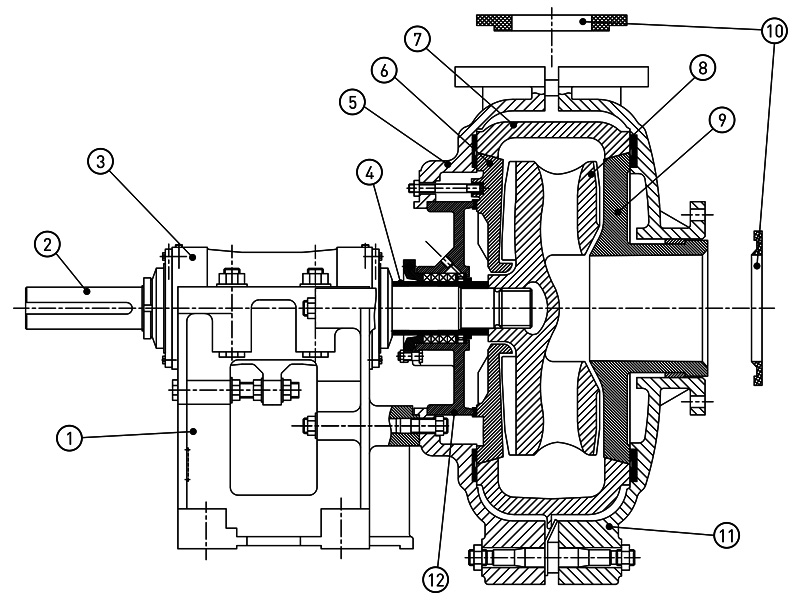 | | | |
| --- | --- | --- |
| No. | Part Description | Material Specification |
| 1 | Base | Cast Iron |
| 2 | Shaft | 4140 Hige Tensile Steel* |
| 3 | Bearing Assembly | Timkin(Cast Iron Body) |
| 4 | Shaft Sleeve | 420 Stainless Steel |
| 5 | Pump Casing | Cast Iron |
| 6 | Frame Plate Liner | 27% Chrome White Iron |
| 7 | Volute Liner | 27% Chrome White Iron |
| 8 | Impellr | 27% Chrome White Iron |
| 9 | Throat Bush | 27% Chrome White Iron |
| 10 | Joint Rings | Rubber |
| 11 | Cover Plate | Cast Iron |
| 12 | Stuffing Box | Cast Iron |
| 13 | Expeller | 27% Chrome White Iron |
| 14 | Expeller Ring | Natural Rubber |
| | Bolts | Zinc Plated Steel |
| | O-rings | Nitrile Rubber |
| | Seals | Rubber |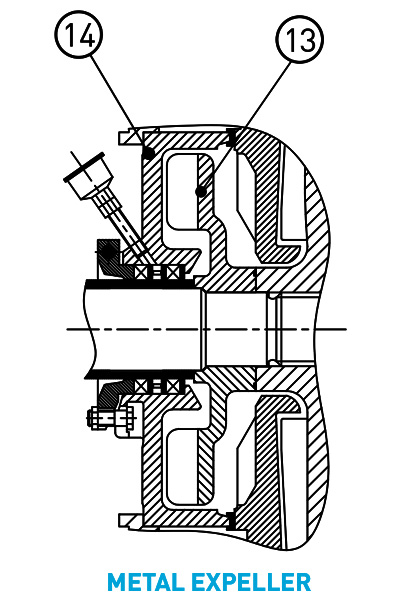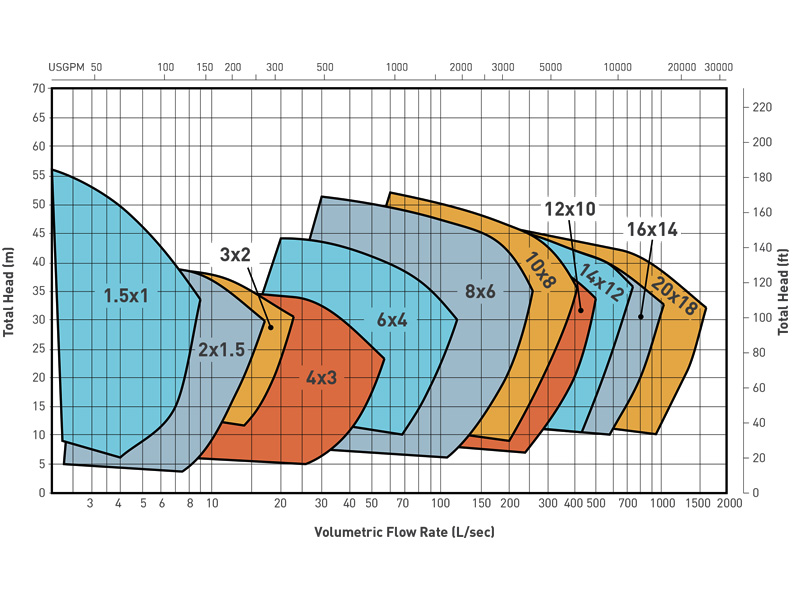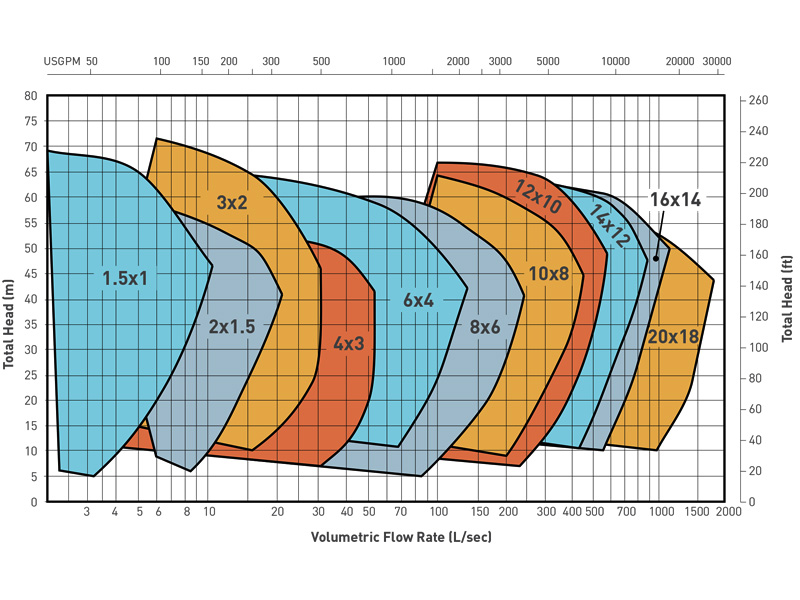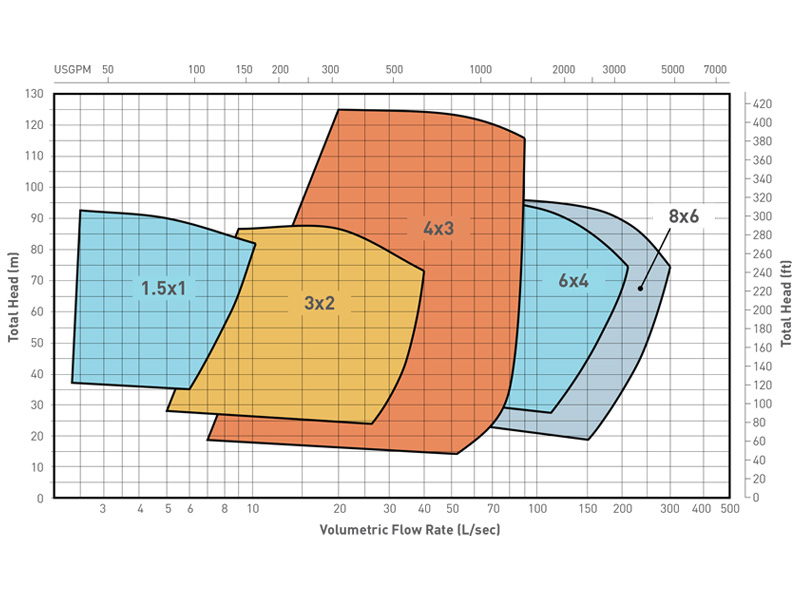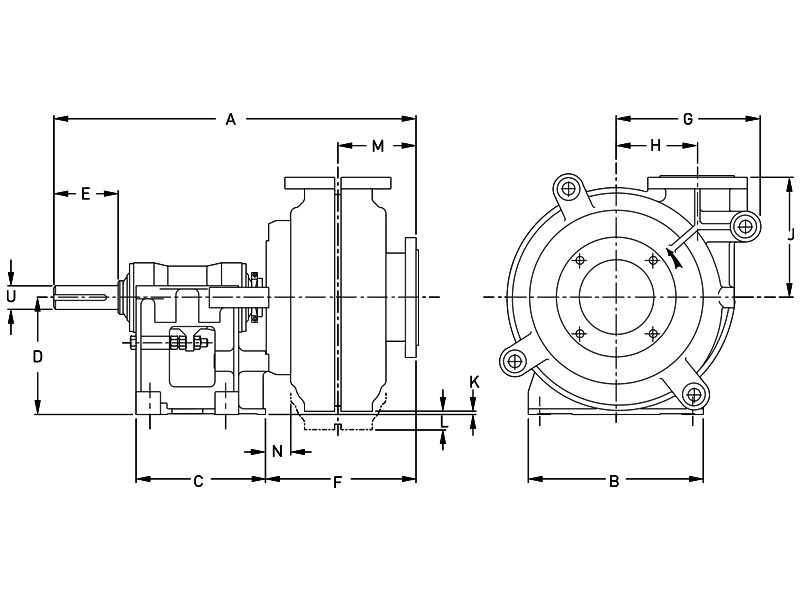 Model
Dimensions (mm)
A
B
C
D
Key
Size
E
F
G
H
J
K
L
M
N
U
Wt/LBs
1.5/1 B
583
295
248
197
8X7
79
206
181
98
171
46
-
106
19
28
88
77
1.5x1 C - HH
759
406
311
254
12x8
121
306
270
194
254
-
11
121
66
42
318
-
2x1.5 B
592
295
248
197
8X7
79
217
203
114
184
33
-
114
22
28
156
118
3x2 C
768
406
311
254
12x8
121
280
238
138
210
71
-
151
40
42
197
154
3x2 D - HH
986
492
364
330
18x11
164
389
384
254
368
-
51
203
83
65
750
-
4x3 C
843
406
311
254
12x8
121
353
292
149
262
24
-
187
54
42
249
236
4x3 D
943
492
364
330
18x11
164
353
292
149
262
100
-
187
52
65
318
290
4x3 E - HH
1240
622
448
457
22x14
222
492
492
330
432
-
12
248
79
80
1250
-
6x4 D
1021
857
364
330
18x11
164
424
406
229
338
11
-
219
65
65
669
454
6x4 E
1178
622
448
457
28X16
222
433
406
229
338
138
-
219
75
80
885
635
6x4 F - HH
1556
857
634
610
22X14
164
585
616
413
546
-
134
305
75
65
3420
-
8x6 E
1302
1150
448
457
28X16
222
557
551
318
460
-
62
292
82
100
1497
982
8x6 F
1507
991
635
610
28X14
279
539
551
318
460
90
-
292
65
80
1814
1390
8x6 T - HH
2275
1150
1040
650
36x20
350
852
835
584
813
-
160
394
-
100
6900
-
10x8 F
1646
991
705
610
28X16
279
683
673
419
635
-
12
333
134
150
3193
2581
10x8 ST
1748
1150
780
650
32X18
280
692
673
419
635
27
-
333
143
100
3742
3130
12x10 F
1721
991
705
610
28X16
279
753
756
464
673
-
104
381
108
100
3760
2808
12x10 ST
1816
1150
780
650
32X18
280
762
755
464
673
-
65
381
117
120
4309
3357
14x12 F
1772
991
705
610
28x16
279
803
937
629
832
-
263
406
105
100
5847
4123
14x12 ST
1873
1460
780
650
32x18
280
812
937
629
832
-
224
406
114
120
6396
4672
16X14 TU
2320
1460
1050
900
36x20
350
953
1048
660
889
-
84
451
167
150
9979
-
20X18 TU
2475
1460
1050
900
36x20
350
1100
1420
940
1230
-
420
480
210
150
18864
15921
---
---