BSP Vertical slurry pumps
Product Detail
Product Tags
BSP Vertical slurry pumps are 100% fully interchangable with the most common slurry pumps design in the mining industry. 
This Heavy duty range features a cantilever shaft design that elimiates any bearings or seal in the fluid end
And idea pump for heavy slurry wash down and spill duties
A full range of material options including complete elastomer lined pumps and hard metal options for corrosive and abrasive media duties. Pumps in all sizes can be configured with a range of collumn lengths and impeller designs. Ideal for corrosive coarse particles and high concentrations of slurry and are widely used in metallurgical, mining and coal industries.
Our slurry pumps use the liner of Corundum materials containing aluminium oxide Al2O3 95-99.5%,and casted in the temperature higher than 1700 ℃ with hardness of 80-90 HRC. And casing and casing cover is using the ceramic liner shrouded with ss frame, the wearing character is 266 times of Mn Steel and 171.5 times of High Chrome.
The service time of the pumps can be 5 times than the pumps under same conditions.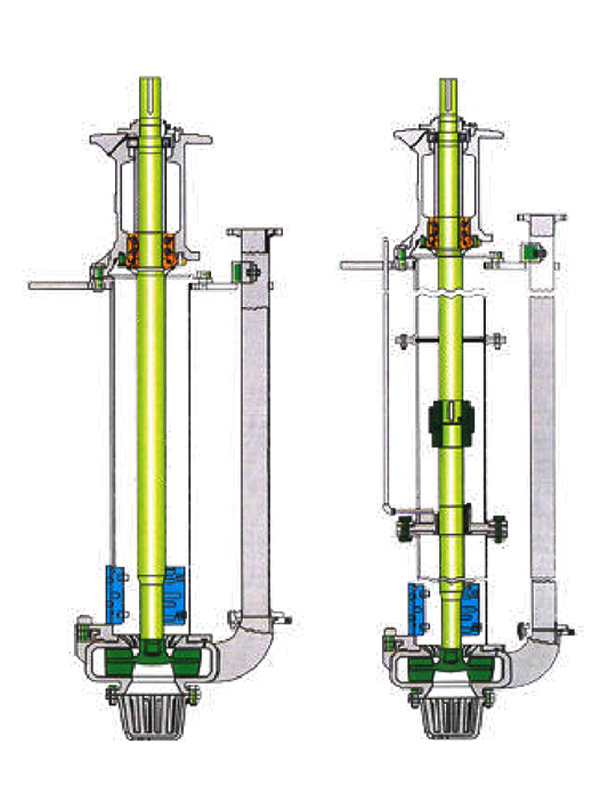 CANTILEVERED SHAFT                                                        EXTENDED SHAFT
Description
Standard Material
Material Options
Shaft
4140 Mild Steel
Available on Request 1
Bearing Housing
Cast Iron
Column
Mild Steel
Upper Strainer
Rubber
Cast Iron
Lower Strainer
Cast Iron
Back Liner
27% Chrome White Iron
Pump Casing
27% Chrome White Iron
Rubber Lined White Iron
Impeller
27% Chrome White Iron
Rubber
Discharge Pipe
Mild Steel
Rubber Lined Mild Steel
/ Composite
Adaptor Plate
Mild Steel
Installations. Contact us to discuss the availability of material options.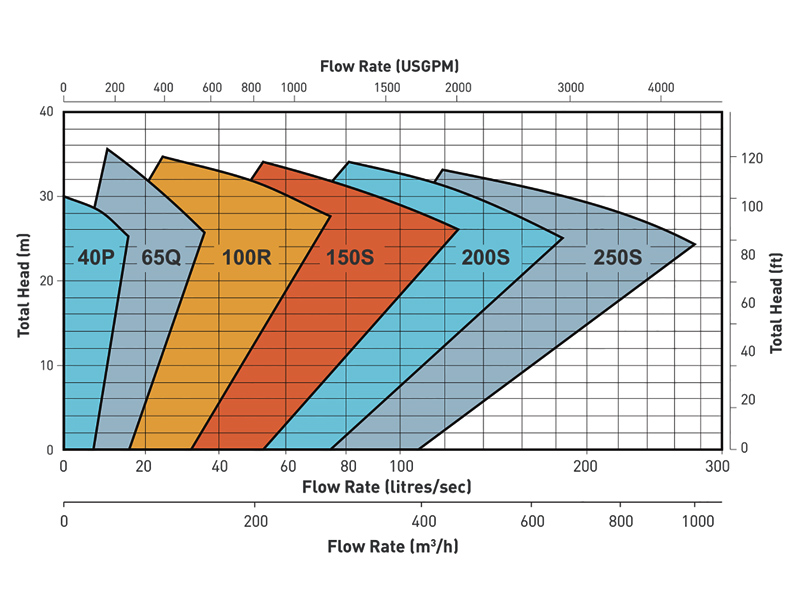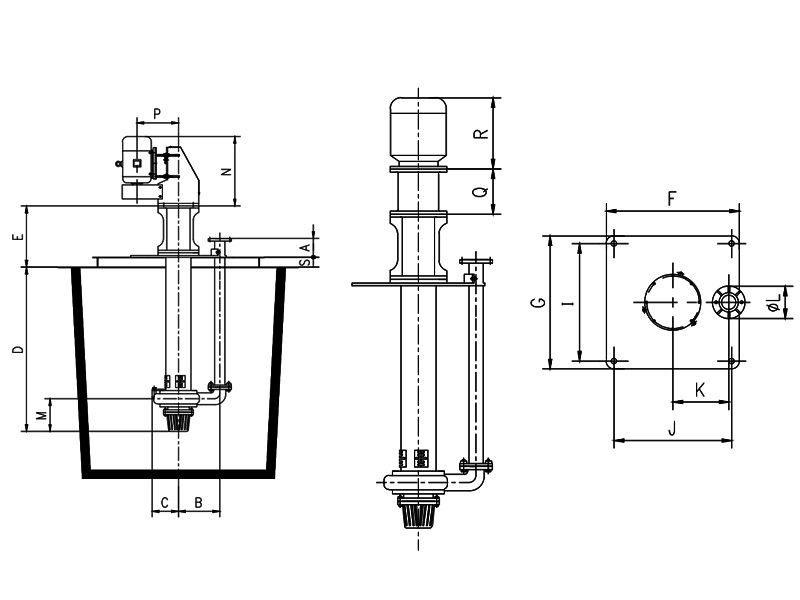 Model
Length (mm)
A
B
C
D
E
F
G
H
J
K
L
M
N
P
Q
R
S
40P
137
285
153
900*
1200
380
500
500
450
450
205
127
174
733
675
248
629
280
40PR
140
265
175
380
500
500
450
450
205
127
174
733
675
248
629
280
65Q
227
399
231
900
1200*
1500
492
680
680
620
620
285
178
265
898
794
290
681
350
65QR
230
380
260
498
680
680
620
620
285
178
265
898
794
290
681
350
100R
260
538
317
1200
1500*
2100
662
1000
870
800
930
400
229
393
1141
1020
416
960
350
100RR
266
535
332
668
1000
870
800
930
400
229
393
1141
1020
416
960
350
150S
390
670
365
1500
800*
2100
875
1100
1100
1030
1030
500
280
475
1311
1200
476
1011
350
150SR
395
670
400
883
1100
1100
1030
1030
500
280
475
1311
1200
476
1011
350
200S
450
805
440
1800
2100*
2400
878
1300
1200
1100
1200
600
343
550
1313
1300
476
1011
350
200SR
450
805
440
878
1300
1200
1100
1200
600
343
550
1313
1300
476
1011
350
250S
500
930
470
1800
2100*
2400
1000
1750
1450
1350
1650
700
406
685
1572
1750
561
1246
400
250SR
500
930
470
1000
1750
1450
1350
1650
700
406
685
1572
1750
561
1246
400
---
Previous:
BAH Horizontal slurry pumps
---